Some of the world's largest companies have been tokenized… and can now be traded around the clock.
On January 7, DX.Exchange launched a platform that allows investors to buy digital securities (or security tokens) in some of the biggest companies listed on the Nasdaq.
So far, these names include:
Amazon (AMZN)
Facebook (FB)
Intel (INTC)
Apple (AAPL)
NVIDIA (NVDA)
Netflix (NFLX)
Tesla (TSLA)
Microsoft (MSFT)
Google (GOOGL)
But eventually the firm plans to expand to the New York Stock Exchange (NYSE), as well as Hong Kong and Tokyo.
Each security token represents one share in a company, and token holders will receive the same dividends as traditional shareholders, although the companies themselves are not involved. Instead, shares are purchased and held by DX's partner, MPS MarketPlace Securities, and then tokenized on the Ethereum network.
---
Stock picks from Wall Street's greatest minds for $1
What if the loose change between your couch cushions could get you direct access to stock picks from some of the brightest minds on Wall Street?

Guys like Jim Cramer, billionaire hedge fund manager Ken Fisher, and Fox Business' Charles Payne...

Don't believe it?
---
As of right now, the Estonia-based exchange is fully licensed by the Estonian Financial Intelligence Unit (EFIU) to operate throughout the European Union (E.U.). But DX plans to bring its services to U.S. investors by the end of 2019..
This is a huge deal…
What's the difference between digital securities and utility tokens?
Just because both of these technologies are built on the blockchain doesn't mean they're the same… or even have that much in common.
Utility tokens provide a specific function. Think of Dave & Busters or Chuck E. Cheese. You can use their tokens to play video games or purchase giant stuffed animals at those establishments. But you can't use them to fill up your gas tank or buy groceries. There's no actual value backed by dollars or any other asset. Nor do they give you any type of owner benefit in the companies themselves.
Digital securities (or security tokens) give the holders ownership in an asset. Much like stocks, security tokens give you equity in a company or other asset, and you can earn dividends.
After a rough year for cryptos, many investors are turning to digital securities for the added layer of value and security.
–
For one thing, this platform allows investors to buy and sell digital securities 24/7, which will increase liquidity in those names.
And it opens up all kinds of markets to individual investors across the globe. It's not easy to invest in overseas markets. You have to open new accounts and follow all kinds of foreign guidelines. Digital security platforms like DX will cut out the hassle and allow individuals to invest across many opportunities—from stocks to cryptocurrencies—all on one exchange. And you can do it any time you want.
Security tokens are a much cheaper and more efficient way for businesses to raise capital vs. the traditional Wall Street route—which consists of high fees and huge barriers to entry. It's only a matter of time before more regulated digital securities exchanges are launched and more assets (stocks, real estate, art, etc.) are tokenized. A handful of token exchanges are expected to launch in 2019.
The biggest names on Wall Street are adapting to digital securities…
Blockchain technology is leveling the investor playing field…
And this is only the beginning.
Frank Curzio with Daniel Creech
---
Note: The opportunity in digital securities is the biggest of my lifetime… Hundreds of millions of dollars have already been raised for digital securities in 2018. I expect this number to jump into the billions in 2019. If you're interested in finding out more about this incredible new market, click here.
Next month I'll be launching the first security token in the financial publishing industry: the Curzio Equity Owners (CEO) token, for qualified investors. To learn about its unique benefits, click here.
---
Recommended Link
Trump Policy "Forces" Banks to Pay for Their Crimes
2008: The big banks wiped out $3.3 trillion from American homes.
2018: Our president is demanding they pay it all back.
–
RECENT ARTICLES
The Canadian market is where you want to be as commodities soar... and it's a smart way to diversity. Learn one of Genia's favorite ways to gain exposure...
Read More
The summer tends to be a tough time for investors. The latest Big Money data shows that selling is already starting to pick up… except in one specific area of the market. Luke shares his favorite fund to take advantage of the setup.
Read More
4

"Inflation-Proof" Assets
To Buy Today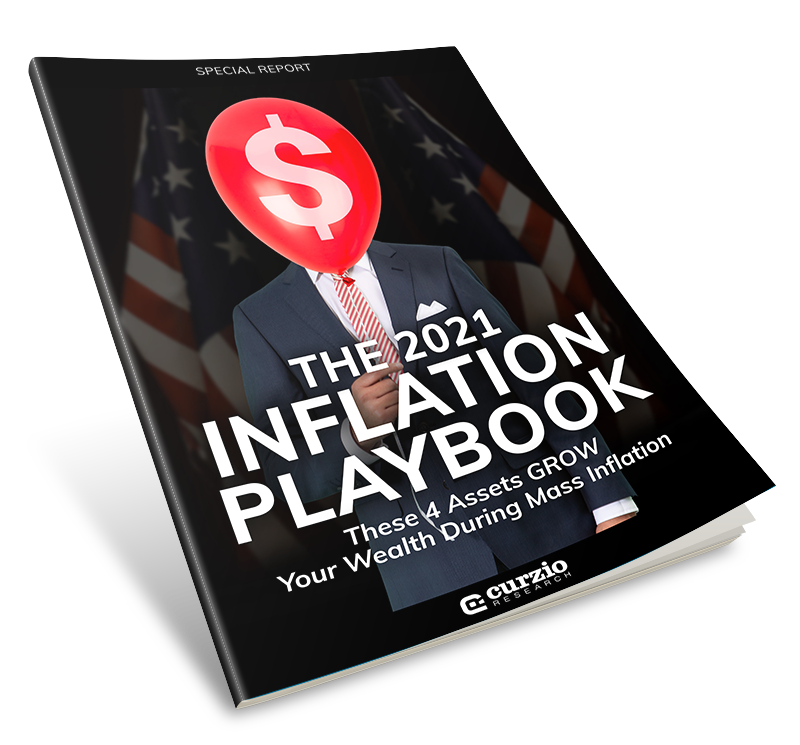 Claim a FREE copy of my latest report and discover:
How runaway inflation can make you a LOT of money in the near future
4 assets you can buy TODAY that are poised to outperform when inflation hits