Some of the world's largest companies have been tokenized… and can now be traded around the clock.
On January 7, DX.Exchange launched a platform that allows investors to buy digital securities (or security tokens) in some of the biggest companies listed on the Nasdaq.
So far, these names include:
Amazon (AMZN)
Facebook (FB)
Intel (INTC)
Apple (AAPL)
NVIDIA (NVDA)
Netflix (NFLX)
Tesla (TSLA)
Microsoft (MSFT)
Google (GOOGL)
But eventually the firm plans to expand to the New York Stock Exchange (NYSE), as well as Hong Kong and Tokyo.
Each security token represents one share in a company, and token holders will receive the same dividends as traditional shareholders, although the companies themselves are not involved. Instead, shares are purchased and held by DX's partner, MPS MarketPlace Securities, and then tokenized on the Ethereum network.
As of right now, the Estonia-based exchange is fully licensed by the Estonian Financial Intelligence Unit (EFIU) to operate throughout the European Union (E.U.). But DX plans to bring its services to U.S. investors by the end of 2019..
This is a huge deal…
What's the difference between digital securities and utility tokens?
Just because both of these technologies are built on the blockchain doesn't mean they're the same… or even have that much in common.
Utility tokens provide a specific function. Think of Dave & Busters or Chuck E. Cheese. You can use their tokens to play video games or purchase giant stuffed animals at those establishments. But you can't use them to fill up your gas tank or buy groceries. There's no actual value backed by dollars or any other asset. Nor do they give you any type of owner benefit in the companies themselves.
Digital securities (or security tokens) give the holders ownership in an asset. Much like stocks, security tokens give you equity in a company or other asset, and you can earn dividends.
After a rough year for cryptos, many investors are turning to digital securities for the added layer of value and security.
–
For one thing, this platform allows investors to buy and sell digital securities 24/7, which will increase liquidity in those names.
And it opens up all kinds of markets to individual investors across the globe. It's not easy to invest in overseas markets. You have to open new accounts and follow all kinds of foreign guidelines. Digital security platforms like DX will cut out the hassle and allow individuals to invest across many opportunities—from stocks to cryptocurrencies—all on one exchange. And you can do it any time you want.
Security tokens are a much cheaper and more efficient way for businesses to raise capital vs. the traditional Wall Street route—which consists of high fees and huge barriers to entry. It's only a matter of time before more regulated digital securities exchanges are launched and more assets (stocks, real estate, art, etc.) are tokenized. A handful of token exchanges are expected to launch in 2019.
The biggest names on Wall Street are adapting to digital securities…
Blockchain technology is leveling the investor playing field…
And this is only the beginning.
Frank Curzio with Daniel Creech
---
Note: The opportunity in digital securities is the biggest of my lifetime… Hundreds of millions of dollars have already been raised for digital securities in 2018. I expect this number to jump into the billions in 2019. If you're interested in finding out more about this incredible new market, click here.
Next month I'll be launching the first security token in the financial publishing industry: the Curzio Equity Owners (CEO) token, for qualified investors. To learn about its unique benefits, click here.
---
Recommended Link
Trump Policy "Forces" Banks to Pay for Their Crimes
2008: The big banks wiped out $3.3 trillion from American homes.
2018: Our president is demanding they pay it all back.
–
What's really moving
these markets?
Subscribe to access daily market updates and exclusive content
Books are a big part of Wall Street culture. Luke shares his favorite book of all time… and the simple lesson that helped him find the path to big, long-term investment gains.
WallStreetBets' origin story... How GameStop turned into a hedge-fund-crushing movement... Why the financial system is still broken... Jaime's legal battle with Reddit... How WSB is pushing to "gamify" trading... And the future of NFTs.
Why there's more pain ahead for the banking sector... Are bank stocks a buy?... Why the bailout should terrify you... And one financial stock being unfairly punished. Plus, will the Fed hike interest rates next week?
Why Silicon Valley Bank failed—and why the government bailed it out... Why the Fed is f***ed—and what to expect from next week's meeting... And the "must-have" portfolio protection for this market.
Darin Myman, CEO of DatChat, explains why the metaverse will be so much more than what you can imagine—from social media and content ownership to taking care of pets... And why 2023 will be the year of the metaverse.
How an unprecedented move by the government led to Silvergate Capital's bankruptcy… And a new risk factor analysts must consider. Plus, 30 stocks facing serious downside risk… And why we're betting against a company that just beat earnings.
The Fed has changed its tune on inflation... Expect inflation data to come in hot... And your favorite stocks will get crushed as a result. Plus, why kids' sports are a racket.
Why the latest rate hike won't make a dent in inflation… And the drastic (mis)step the Fed should avoid. Plus, this week's Dollar Stock Club pick is an industry leader set to benefit from higher interest rates.
What to expect following today's Fed meeting... Two assets that will keep rallying as the Fed tinkers with interest rates... And one mega-cap for your shopping list. Plus, why the banking crisis will last awhile.
As we face recession, you may be tempted to stay on the market sidelines—and keep your cash safe. But you don't want to exit the market altogether. Genia shares three assets that will allow you to profit during a recession.
A recession is coming... and investors need to use extreme caution in this treacherous market. Here are 3 sectors to steer clear of to avoid suffering in the long term.
It's practically guaranteed we'll see a major economic decline over the next 12 months. In fact, one contrarian indicator is flashing red. But don't panic: If you're properly prepared, you can avoid a lot of the damage.
Frank and Daniel break down Salesforce's impressive results... Whether Macy's and Best Buy are buys following earnings... And the secret behind Elon Musk's success. Plus, how the latest Dollar Stock Club pick will profit off Wall Street's games.
Banks are cracking down on everything crypto-related—even Curzio Research... How regulators are acting like bad parents towards crypto—and it's backfiring... And how crypto is following in the footsteps of sports betting.
DON'T Sit In Cash…

Making These 4 Simple Moves Today Could Set You Up For A Massive Windfall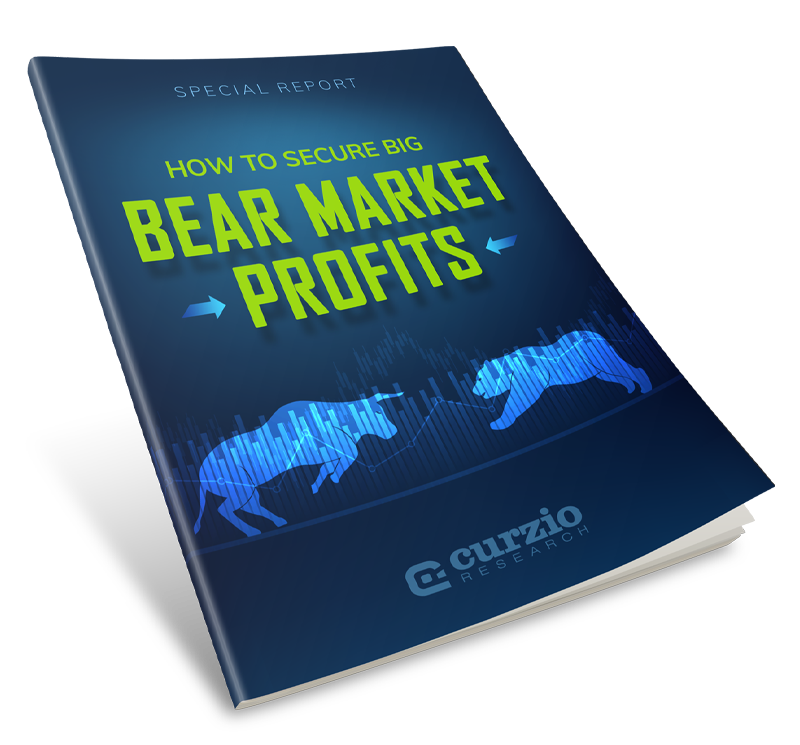 Claim a FREE copy of our latest report and discover:
Simple strategies you can start using today to see consistent 100%+ gains in the worst markets
How you can turn market turmoil into consistent cash payouts