About Us
A message from
Frank Curzio
What we do
Curzio Research is an independent financial newsletter publisher dedicated to providing deep-dive market analysis, unique stock ideas, and the tools individual investors need to consistently generate market-beating returns.
Why we're here
So many industries are full of outlandish money-making promises these days. It's tough to filter through the noise and know whom to trust. I hate to admit it, but the financial newsletter industry is the same way.
That's why my team and I set out to do something different. We're not just about giving stock picks… we're about research and education. We're about helping you become a better investor and changing your financial future. We dive into the story behind the stock, the methodology behind the math.
Our recommendations are 100% independent—we never get paid by companies to recommend their stocks. We operate with full transparency and the intention to provide more than you expect.
Bringing Wall Street back to Main Street… and returning an industry to its roots
When I started Curzio Research I had a vision… but more importantly I had a group of talented colleagues who shared my vision.
We've all worked on Wall Street or at multi million-dollar financial newsletter companies. And we grew tired of seeing investors lose hard-earned money buying into flashy promotions promising quick, mind-blowing riches.
But we also know you won't get rich by giving your money to Morgan Stanley and Charles Schwab like everyone else. It takes out-of-the-box ideas to make returns that can truly change your family's fortunes.
With all our collective experience, we thought we could build something much better… something more personal… and focused on making the investor money rather than supporting a huge publishing company.
Our vision is a return of this industry to its roots: real world investment education… thoroughly researched stocks… realistic but meaningful returns… and long-term relationships with our subscribers.
How the Curzio Research story began…
Stock analysis is what I love to do… It's in my blood.
I learned the trade at an early age from my late dad, Frank Xavier Curzio, Sr., who managed over $150 million in assets and wrote an acclaimed investment newsletter (The FXC Newsletter) for over 20 years.
Over this time, my father averaged nearly 20% returns annually. His newsletter was ranked #1 by Hulbert Financial Digest numerous times. He was also the top stock picker (with a record six wins) in The Wall Street Journal's stock picking contest.
This contest featured some of the greatest analysts on Wall Street, including Jonathan Steinberg, Abby Cohen, Louis Navellier, and Mario Gabelli―all legends in the financial industry.
While working with my dad on FXC, I became an expert in fundamental stock analysis. For 10 years, I dug deep into annual reports, income statements, cash flow, and balance sheets for thousands of companies. I learned to pinpoint the companies that are thriving… and the ones that are using aggressive methods to mask underlying weakness.
The "Big Dance"
When I left FXC, it was only to become a senior research analyst for Jim Cramer's Mad Money. Jim is a former hedge fund manager known for being one of the most connected people on Wall Street.
There I researched and analyzed thousands of stocks across every sector… including financials, resources, materials, infrastructure, healthcare, biotechnology, technology, defense… And I studied small-cap stocks, mid-caps, and large-caps―just about every facet of the market.
More importantly, I became an expert in finding growth stocks—companies like Netflix and Facebook—that can offer life-changing gains for investors.
After working side by side with Jim for five awesome years, I was hired by Stansberry Research―one of the largest independent financial newsletter publishers in the world. There I edited two popular small-cap services, one of which (Phase 1 Investor) became one of the highest-grossing financial newsletters in the industry.
In my six years at Stansberry Research, I traveled the world to find the best investment ideas for my readers. I wrote about opportunities in Singapore, China, Europe, and Canada… investigated every major shale area (the sources of oil and natural gas) in the U.S.―including the Bakken (North Dakota), the Eagle Ford and the Permian Basin (Texas), and the Marcellus (Pennsylvania and Ohio)… attended (and spoke at) numerous conferences… grilled executives at Fortune 500 companies… and made tons of site visits to provide my subscribers with an insider's perspective.
It's the people you meet along the way
For over a decade, I've interviewed some of the greatest minds on Wall Street through my Wall Street Unplugged podcast, a free radio show I host every Wednesday. It's one of the most-listened-to financial podcasts in the business/investing category, ranked #1 on iTunes and downloaded over 11 million times.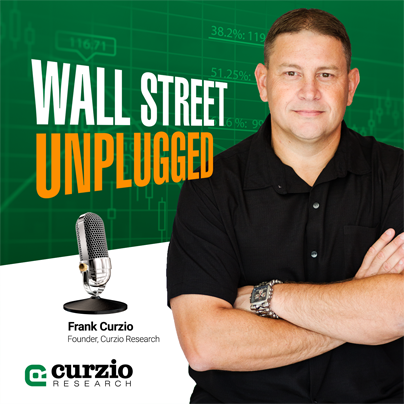 By interviewing billionaires, award-winning economists, market experts, and financial gurus, I've built one of the biggest networks in the financial industry. My Rolodex is so valuable I keep it in a locked drawer!
This "who's who" list of friends has helped me uncover incredible ideas and trends before they're ever mentioned by the mainstream media.
I'm talking about companies like Imax in 2007 (610% gains), Ashland in 2008 (over 1,100% gains), ATAC Resources in 2009 (525% gains in less than a year), Human Genome Sciences in 2012 (84% gain in three weeks after predicting the company would be acquired), Brazil Resources in 2014 (over 400% gains), First Mining Finance in 2016 (over 300% gains in less than 15 months), and Newlink Genetics in 2017 (skyrocketed 188% in 16 days).
And these are just a few of my many winners.
Obviously, there have been some losers too… No one gets it right 100% of the time. But overall, my picks have generated market-beating returns over the past 25 years.
Editors who are actually experienced analysts
My colleagues Genia Turanova, Luke Downey, and I have over 60 years of combined experience analyzing stocks and the markets. We have a unique outlook and approach to investing… as do our readers. Our newsletters are designed with investors' individual interests and comfort levels in mind. Whether you're just beginning or already a seasoned trader, we'll show you how to maximize your portfolio—with the respect you deserve.
We're proud of our exceptional track records and earned credibility. But the thing that really distinguishes us is our dedication to our subscribers… we want to educate and empower them.
To that end, subscribers can count on original content, unique ideas, detailed analysis, and superior service.
Our job is to show you investment opportunities that have the best potential to give you returns… to bring you ideas we have access to thanks to our decades of experience and industry contacts.
Our Products
Check out our list of publications to find out which of our investment newsletters best suit your investment style and financial goals.
Free Research
Get free stock research and actionable advice delivered to your inbox each week…
Frank Curzio's Wall Street Unplugged