subscription
Monthly stock picks
Thorough analysis
Portfolio alerts between issues
No minimum investment
Money back guarantee
INVESTORS

Beginner - Intermediate
RISK/REWARD

moderate
Mid- To Large-cap Stocks
Number of positions, investor experience level and risk/reward vary. These are estimations based on historical data.
Profit like a Wall Street insider
If you want to make real money in the market, you need information not many people have access to… with a track record of success.
Every month in Curzio Research Advisory, Frank Curzio distills the information he gathers from his extensive network of Wall Street insiders… and his own boots-on-the-ground research… to bring you the best mid- to large-cap opportunity in the market.
You'll have access to everything from the hottest new technology stocks… to inflation-resistant commodities… to crypto and blockchain companies.
And if there's market news big enough to affect your portfolio, you'll be the first to hear about it—and know how to prepare.
Curzio Research Advisory is hands-down one of the most outstanding values on the market at $299 a year. And you can try it for the next 30 days, risk-free.
Editor
Frank Curzio
founder and CEO
Market veteran and founder of Curzio Research, Frank is one of America's most respected securities experts. His top-ranked Wall Street Unplugged podcast has been downloaded over 11 million times. Learn more
Analyst
Curzio analyst and co-host of Wall Street Unplugged, Daniel has over a decade of experience researching macro trends, large- and small-cap stocks, and digital securities. Learn more
Frank consistently recommends winning ideas
Investing in securities involves the risk of loss. Past performance is used as an example and does not guarantee future results.
Transparency you don't get from most experts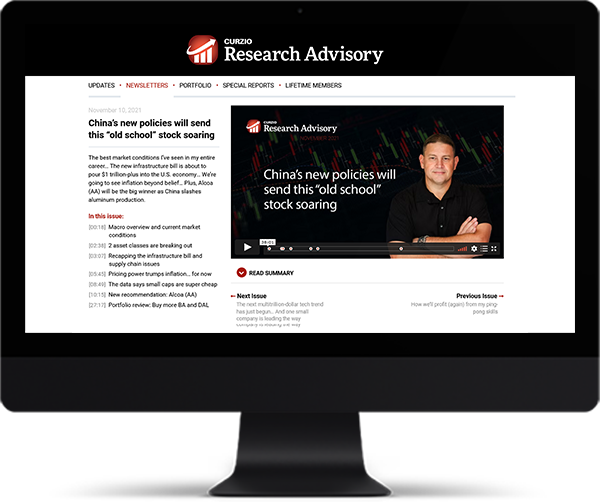 Curzio Research Advisory is released in a unique video format (with a detailed summary) that allows you to follow Frank's research process step by step. You'll see the charts and financial data he uses to select each month's stock pick… and learn how to apply this process to improve your own investing strategy.
VIEW SAMPLE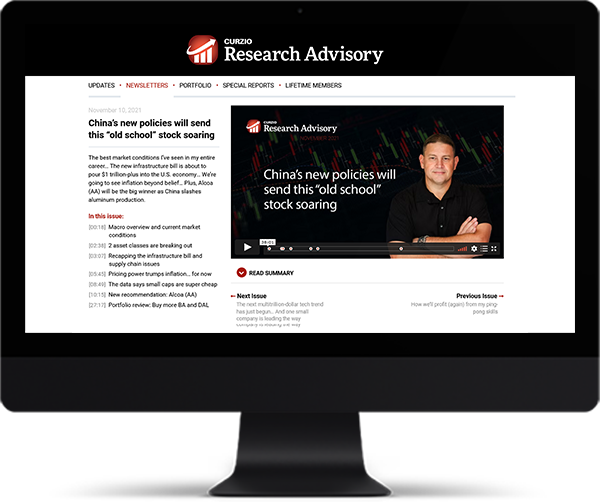 Latest Issues
Two ways to generate 40% gains in just 6 months
One thing is certain: Oil prices are poised to soar going forward. This month's first recommendation is an independent oil & gas producer set to benefit from rising energy prices. Even better, it's a great fit for the buyback-focused strategy I've highlighted in recent months. My second new pick is a familiar tech giant that's pulling ahead of its competitors in the artificial intelligence (AI) space. And its shares are a bargain compared to other tech stocks.
Get member access
The ultimate contrarian bet
Our new recommendation is a juggernaut in the online payment space. But after a two-year downtrend, investors have completely given up on it. Expectations and valuations are at rock-bottom levels… which means the potential upside is now much higher than the downside. And just a few days ago, the company launched a new catalyst that could generate years of additional growth.
Get member access
"I did the math and my wife and I are newly minted accredited investors! This never would have happened without your podcasts and newsletters."Jon J.

"A couple weeks ago I got my first 10 bagger thanks to your services."Rowland W.

"Frank, I want to give you a pat on the back... I've never been up over 100% on a stock, let alone in 6 months. You are the best!"Waren S.

"With your help, I have rescued my 401(k) and my Roth IRA and am now up on both for the year!"Kevin H.

"You are the man Frank! Thank you for sharing all this stuff. You have saved our family solid six figures through this."Lee S.

"Just wanted to say thanks for the great coverage of not only the markets but the pandemic in general. You've helped my portfolio the last 7 years and I've always loved to hear your take on things."Bill Z.

"Your work is fricken awesome and I've shared your name with a lot of people - I figure you saved me around $150k with your advice to sell in February!"Mike W.

"You saved me 1,000s of dollars in my self-directed IRA/401k with your call. Glad I have been a member!"Jesse O.

"Congrats on simply a fantastic market call. As far as I know, you were ahead of everybody else. Without question, you were responsible for me taking money off the table at exactly the right time."Sheldon S.

"Frank - your call on Imax made me over 300% returns. You taught me to become a better investor and explain what doing the homework really is. Thank you for all your hard work."Finnegan P.
Subscription also includes
WSU Daily
Weekly market updates and actionable advice to help you navigate any market conditions... and profit like a Wall Street insider.
Weekly Breakdown
A compilation of all Curzio market commentary, podcasts, and major financial news of the previous week, delivered every Sunday.
Special Reports
Timely bonus research detailing how to position yourself for special market situations… like a hot new growth trend or impending recession.
Frankly Speaking
Exclusive members-only podcast where Frank answers the top questions from Curzio readers, hosted every Friday.
Lets get started
Retail price: $299/year
100%
Satisfaction Guarantee
You have a full 30 days to decide if Curzio Research Advisory is right for you. If you're not 100% satisfied—for any reason—you can cancel within those 30 days and receive a full refund, no questions asked.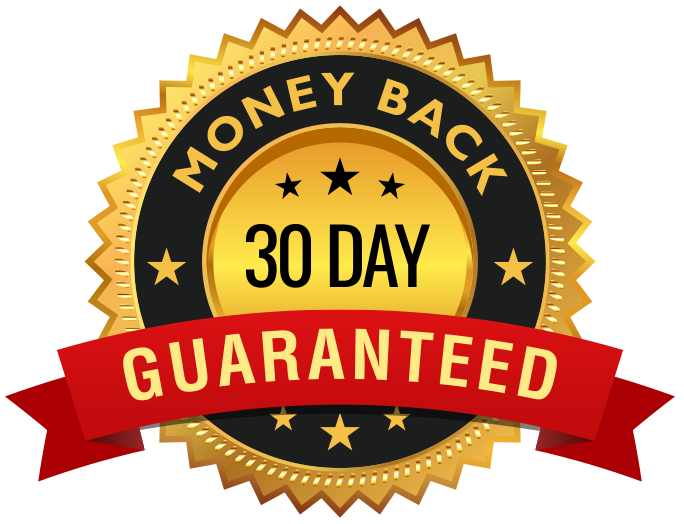 WAIT!
Will you get crushed when
the AI bubble bursts?
Claim a FREE copy of our latest report and discover:
Data showing why investors should be wary of the AI trend
Two of the best ways to profit in the near terms